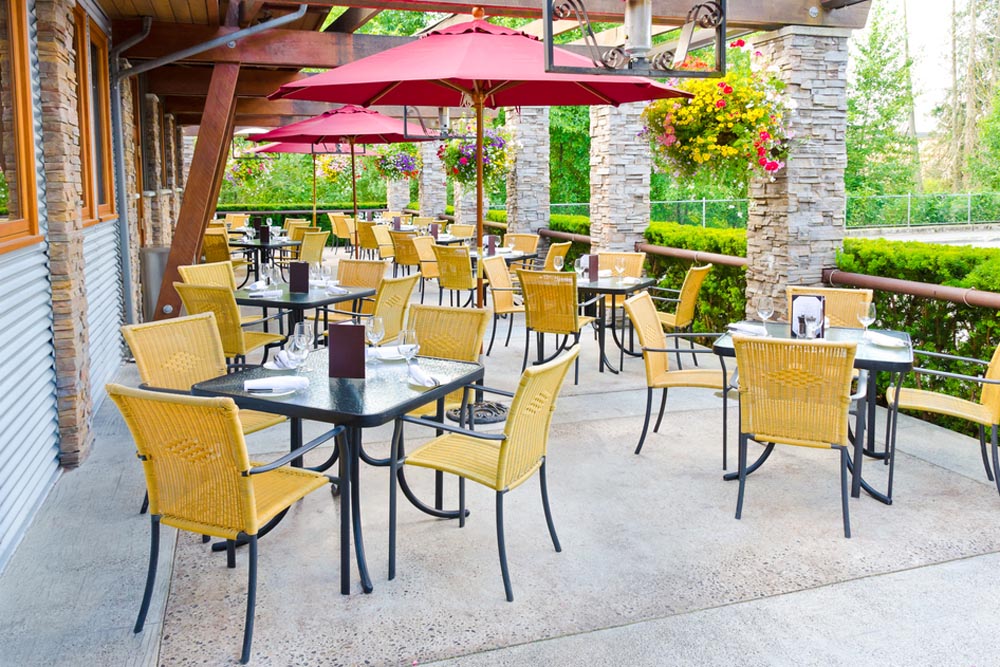 Patio Dining: Prep to Please
As soon as the temperature gets above 60, you'll have customers lined up to enjoy eating and drinking in the fresh air on your patio. If you have an patio dining area, or if you're considering one, use this checklist to make sure you're prepared:
How are your flowers, plants, trees and landscaping holding up to the elements? Do they need a facelift or
a simple pruning?
What is the "sun factor" for any areas affected by direct sunlight? Prepare for those rays with awnings and umbrellas in the right places.
If you have a large insect population in your area, consider constructing a screened dining area or installing
bug zappers (check state and local health codes).
Make sure your chairs, tables and utensils are "wind proof." Use napkin rollups to prevent strong winds from carrying away utensils and napkins. Weight down table bases with sandbags or metal weights.
Are your electrical outlets waterproof? Make sure you have enough waterproof outlets to accommodate your outdoor POS systems, outdoor buffets, chafing dishes and lighting sources.
Spring Training for Your Restaurant
Train all employees prior to turning them loose on patio dining areas. Focus on these areas:
Sales and service. There's something about summer fun in the sun that makes people want to indulge a little more than they might during the winter months. Make sure your staff is prepared to take full advantage of this by knowing how to make sales suggestions that improves the overall dining experience.
Logistics. Employees may encounter situations outside they'd never think about in the dining room. For example, train your employees to use highly absorbent terry cloth towels — not table linen — to wipe up rain puddles or outdoor spills.
Weather emergencies. You should have an emergency plan in place to care for your customers during a sudden rain shower or extreme weather. Make sure all your employees are trained on how to safely and quickly handle changes in the weather.
Online Restaurant Training
The Service & Sales Excellence Waitstaff Training Series is based on Service That Sells!, a restaurant training philosophy developed by restaurant owners for restaurant owners. Click here to learn more.

Never miss an article. Subscribe to RTO's Blog

Learn More About RTO's Complete Training Solution.