No one knows your guests better than your servers. So if you're looking for guest loyalty ideas, look to your staff. Not only are you sure to generate some great ideas, team members will be more committed to see those ideas implemented successfully.
Start by breaking your staff into teams ask smart questions like, "What can we change to improve our service and increase repeat visits?"  or "What are some of the reasons guests don't return now?" Encourage them to brainstorm as many solutions as possible in 15 minutes. Award the team generating the most ideas with individual one-dollar lotto quick-picks for their "million-dollar" contributions.
The tried-and-true suggestion box could be put to work as well for generating great ideas. Many managers have given them up because they find nothing more than gum wrappers dropped through the slot. That's often because those employees who've made suggestions in the past have never heard them acknowledged. To put a suggestion box to use most effectively, consider an incentive to employees who feed the box the greatest quantity of useful ideas. Come up with a new theme every week.
For added motivation, award additional prizes for implementation. Once you've approved guest loyalty ideas, encourage the employee to assemble a team to help him or her implement the idea. Recognize any contribution this team makes. Whether their ideas solve your biggest problems or not, your employees are taking the initiative to work in a team. That means you've achieved success in building a positive team environment.
Tools to Build Restaurant Teams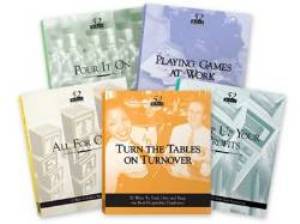 This article was excerpted from the popular All for One: 52 Ways to Build a Winning Team restaurant management book. Our "52 Ways" book series provides one idea per week to solve some of the toughest restaurant management challenges. Books cover topics of employee incentives, staff turnover, cost-cutting, teamwork, and bar profits. Each book contains 52 easy-to-implement ideas – one idea for each week of the year. Click here to get started today!