Service & Sales Excellence Waitstaff Training
In a restaurant, service and sales go hand in hand. Without sales, service can't exist. And without service, you can't sell anything. The Service & Sales Excellence Waitstaff Training Series is based on the Service That Sells!, a restaurant training philosophy developed by restaurant owners for restaurant owners. Workshops within this series include:
Teaching Servers to Sell
The Teaching Servers to Sell Training Workshop is designed to transform order-takers into salespeople. When servers have the tools they need to suggestively sell, guests have a more enjoyable dining experience, sales improve for the restaurant, and servers make more money. Everyone wins! Modules within this workshop include:
To Sell is to Serve, to Serve is to Sell
Increasing Check Averages
Behavior vs. Attitude for Higher Sales
Mastering Product Knowledge
The Mastering Product Knowledge Waitstaff Training Workshop is focused on increasing sales through excellent product knowledge. It teaches servers the importance of knowing details of every item on the menu. As servers' product knowledge improves, so does their confidence in making suggestions that will enhance the guest experience, improve sales, and increase tips. Modules within this workshop include a brief introduction as well as these specific topics:
The Basics of Product Knowledge
The 4 "P's" of Product Knowledge
The Two Laws of Product Knowledge
Service That Wows!
Service is your restaurant's invisible product. Guests will choose to come back to your restaurant instead of going to the competition based on the service they experience. The Service That Wows Server Training Workshop helps servers and other front-of-house employees understand the importance of providing exceptional service to every guest on every shift. Modules within this workshop include:
7 Steps of Service Excellence
How to Sell More Appetizers & Desserts
The most effective way to increase restaurant sales is through suggesting and selling extras such as desserts and appetizers. The How to Sell More Appetizers & Desserts Workshop is a restaurant sales training program that offers specific strategies and example dialogue to help servers provide better service, raise check averages, and increase tips.
Modules within this workshop include:
Strategies to Increase Appetizer Sales
Strategies to Increase Dessert Sales
Guiding Guests to Desserts They'll Love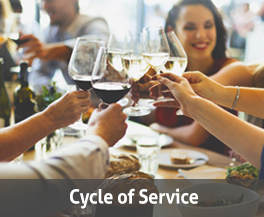 With every guest who walks through the door, your staff should be striving to not only meet expectations, but exceed them. Our Cycle of Service training breaks down a guest's visit into separate steps and trains staff to deliver exceptional service throughout the dining experience.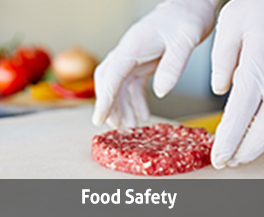 One food borne illness incident can irreparably damage the reputation of a restaurant, or even shut it down completely. SURE™ food safety training, now available online through Service That Sells!, was designed specifically for the hospitality and retail industries.